Sunday, January 23, 2011
posted by Joyce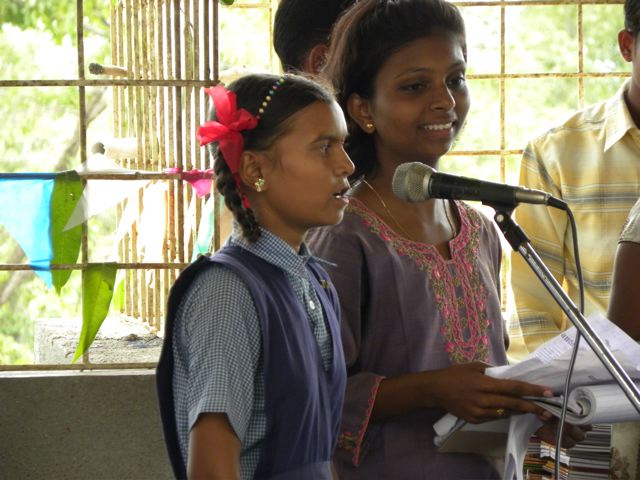 Jayshree Janu Kharpade, at school in India
In a little less than a week Cat (Catherine, my wonderful young assistant) and I will be heading for Mumbai. We can hardly wait to meet Jayshree and the other girls who are residents at a unique school for Tribal girls in the dry scrubland several hours north of the City.
For those who don't know about the "tribals" (which included Holly Carter and myself until this past fall!), they are outside the caste system and predate the Aryan and Dravidian civilizations, making up 15% of India's population, about 50 million people. For generations, landlords have pressed tribals like Jayshree's family into bondage on the pretext that they were paying interest on loans of a few hundred rupees each, the equivalent of roughly $5. No contract was signed or any records kept. The loan was whatever the landlord says it was and it was passed on from one generation to the next. It took a community organizer, Vivek Pandit, to inform them of their rights, that they were legally free to walk off the job. "They're illiterate," Pandit has been quoted as saying, " so they don't even know they have rights. They don't know it's illegal. They don't believe the owner would take advantage of them. They believe whatever the owner tells them."
Once they did declare themselves free from bondage, the government gave Jayshree's family, and others in their community, some land of their own on which they first built a Union Hall. Their next act was to build a School for Girls. The hard part has been convincing many of the parents, who need their children's labor to survive, to send them there. The School started with just a handful of girls ten years ago and now is welcoming about 200.
When I first began to plan for going there, I started a correspondence with an Administrator at the school, Hindavi Karve, who volunteered to send me case studies of many of the girls. They are all portraits of courage under hardship. Here is what Hindavi wrote about Jayshree and what drew her to us:
"…Jayshree was taking care of the house, doing household chores and taking care of her siblings. She wanted to go school, several times she has asked her mother about this. But she found no response from her mother. Her mother used to tell her, "education is one of the luxurious thing we poor people can not afford it. So stop thinking about school and pay proper attention towards your siblings and help us to earn our living." Later her family gets migrated on brick kiln site of nearest village where she has also helping her parents in their work. There Sanghatana activists met with her family, explain them importance of education and suggest them to enroll their daughter in Eklavya parivartan school. Her parents were not ready to enroll their daughter as it creating problem in their livelihood. But activists get succeed to convince them. Now Jayshree is studying in std 8th. She is the most brilliant girl of our school… Taking higher education and making desirable changes for her family as well is major aim for her."
I had been writing to Jayshree, encouraging her to think about how to shape a film about her life, when I was notified a few weeks ago that Jayshree's mother had suddenly died. I don't as yet know the circumstances, except that there is a new baby to take care of and I was sure that Jayshree would have to leave school. Instead I got the most remarkable report from Hindavi:
"Jayshree and other girls who will be the part of movie, was sharing with me that they would like to showcase their struggle in this movie, like how they were working as laborer or care taker of their siblings without attending school, how their parents were opposing them to get enroll in school, then how they came in this school, still how their parents are struggling for their basic needs and hoping that one day their daughter will change their destiny with the power of education and wisdom. Jayshree would like to showcase her recent shattered experience in this movie. Her relatives were forcing her to left the school to look after her younger siblings as they are too young but her father stood strongly at her side and refused this decision of their relatives."
After reading that letter which choked me up, you can well imagine how privileged Cat and I feel that BYkids has given us this opportunity to serve as mentors there.
Until Mumbai…
Joyce
Tuesday, February 1, 2011
posted by Joyce
I'm on a quick break and wanted to let you know that we have a working computer (it's broadband so we can use Skype for talking only).
How to begin — Jayshree is a quick learner and she has already started filming events and interviewing kids at the school. I can't possibly convey how both heartbreaking, energetic and adorable these tribal girls are. Each of their stories is worth a film on its own. Our hosts are going out of their way to make everything as comfortable for us as possible.
Cat will write a blog tonight. We'll spend the rest of this week at the school and then, starting Monday, go with Jayshree to visit her father and younger siblings at her tribal village, go with another girl whose parents work on a brick kiln site and travel 2 hours from here with Vivek Pandit to a remote village where they are just beginning to organize.
Wednesday, February 2, 2011
posted by Cat
It has hardly been a week since we arrived at the school for girls and already I am amazed at the progress we have made with the extraordinary help of everyone on campus. Joyce and I could not be more in awe of Jayshree, and thankful that we have such a great team.
At eleven years old Jayshree re-entered school after a hiatus in which she worked to help support her family. Since returning she has caught up on everything she missed and more. Now sixteen, she excels in her studies and is talented in so many ways, and yet it was still surprising to see just how quickly she grasped the concepts we were sharing with her. We started simply by giving her a digital photo camera, walking and talking (with the help of our wonderful Hindavi) about composition and framing. I could barely contain my excitement looking back at the beautiful stills she took. She has a keen eye; a natural talent that cannot be taught.
The next day, after a brief tutorial on handling the video equipment, Jayshree was ready to begin shooting her film. The ear to ear smile on her face when she rolled the camera for the first time was priceless.
I feel so fortunate to have this chance, to know this incredibly special girl who has gone through so much in her young life and continues to hold her head high and smile, and be a guide to the younger girls here at the school.
When we asked about her goals for the future Jayshree responded that she wanted to be an engineer. She isn't particularly interested in math or science, but she knows that this is one of the highest paid careers in India. She wants to make money to support her family, and to support her true aspiration: to be a freedom fighter… Just like the brave men and women who fought for freedom from bondage for tribes like Jayshrees. I have no doubt she will achieve that, and more.
Inspired..
Cat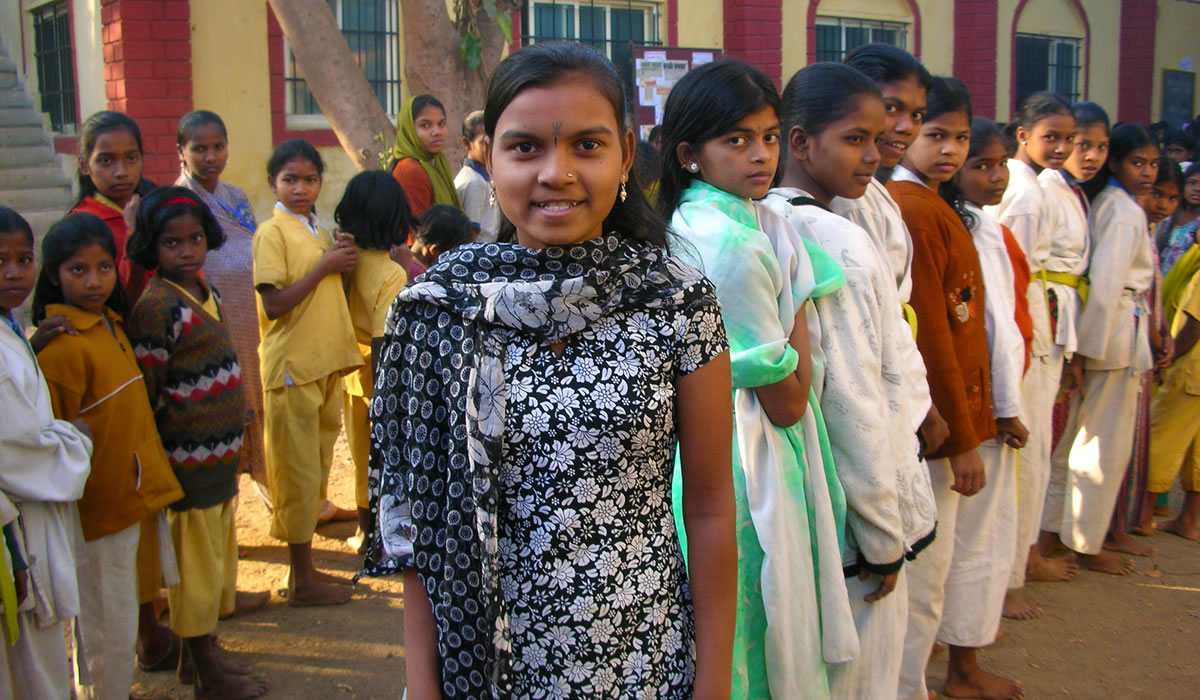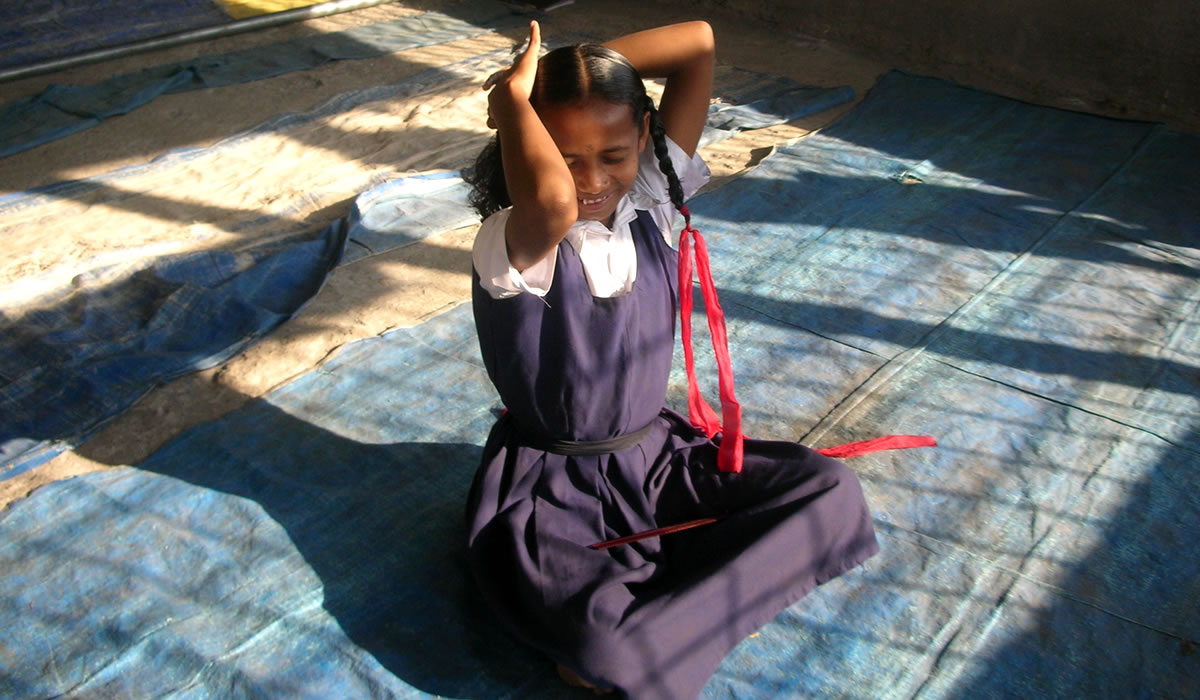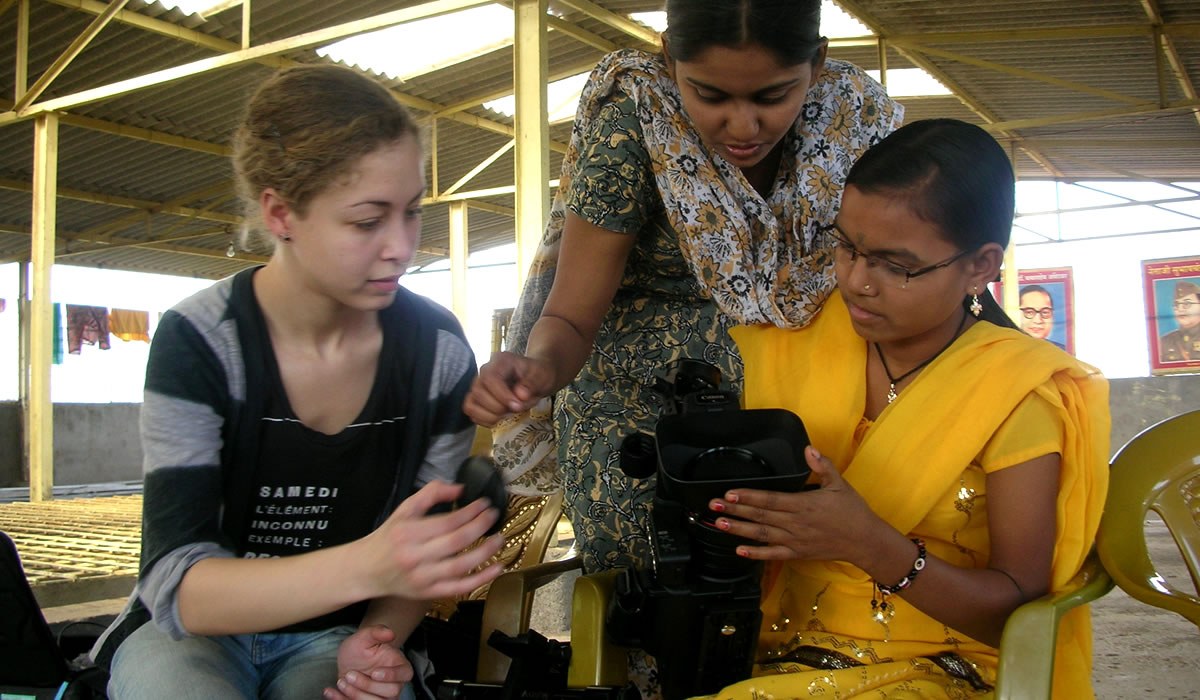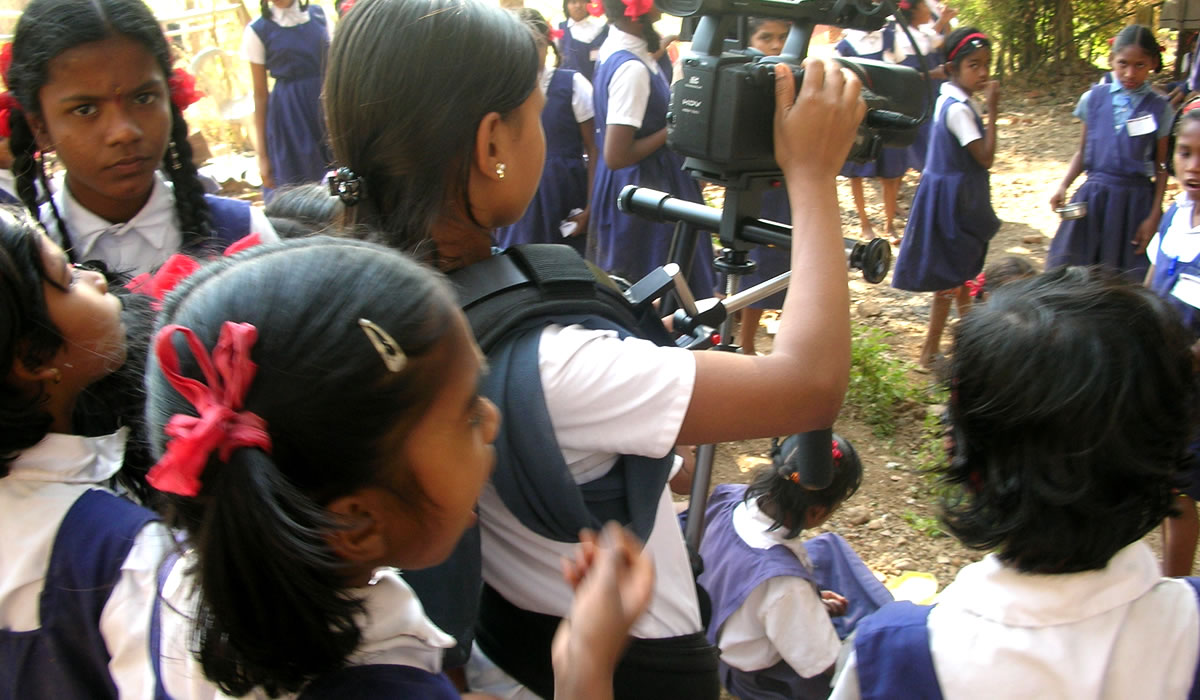 Monday, February 7, 2011
posted by Joyce
Jayshree has just about completed filming her life at the school so we set off today to film at her tribal village — a terrifying road trip of two hours.
The narrow and very bumpy two lane road is a free-for-all for motorized rickshaws, motorcycles, oversized trucks and the occasional cow. Jayshree's father, family members, younger siblings and various neighbors were all gathered to greet her. There was a strong undercurrent of melancholy since her mother died less than a month ago. After the greetings, she set up the camera for a two shot of her herself seated next to her father (with me as her stand-in or, in this case, her sit-in) for a conversation with him. Then did the same with herself and her three younger siblings. And of course, she did many shots of the village to convey what it looked like.
Cat and I continue to marvel at her fluidity with the camera! In a few days, she will film Vivek Pandit, the man who first unionized the tribals, as he pays a visit to a tribal village that has not been unionized yet. The days are merging together and I almost forget to mention that we went with Jayshree a few days ago to a brick kiln site where her aunt & uncle work. She worked there as a child, alongside her parents, and can still pile a dozen or more bricks on her head and walk erect for a hundred feet!
More to follow… Joyce
Friday, February 11, 2011
posted by Joyce
Here are some more pictures of Jayshree being awesome!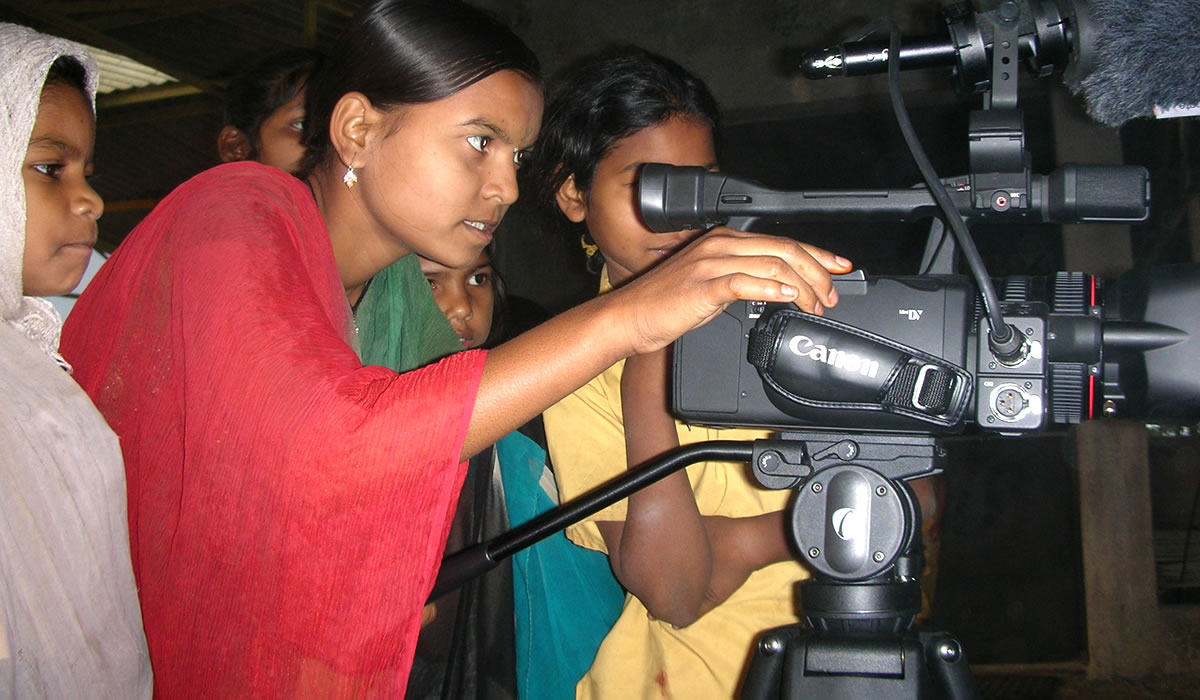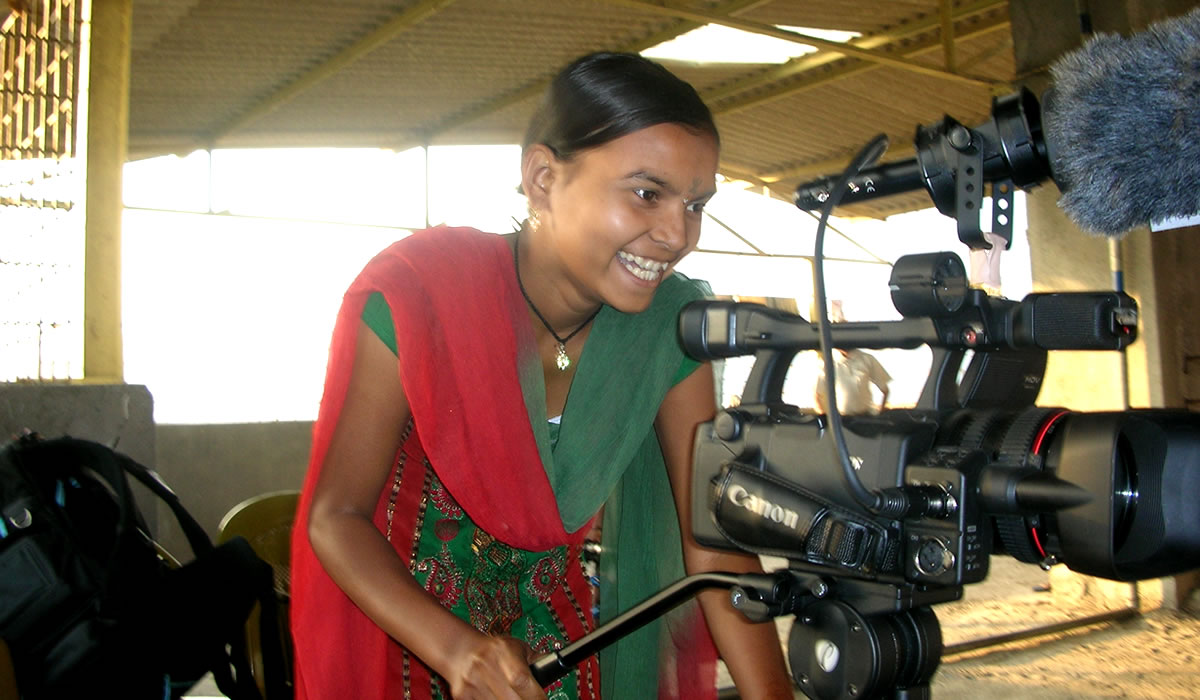 Saturday, February 12, 2011
posted by Joyce

Saturday, February 12, 2011
posted by Joyce
Vivek made an unannounced visit in his new role as a Member of the State Legislature to a government-run school for Tribal schools with Jayshree by his side. It was horrific — no bathrooms, one schoolroom with concrete floors that also serves as the 80 girls bedroom, no electricity, rotted corn meal for their only food and, to top it off, one male Teacher who was drunk in the courtyard. It was a black comedy of the worst kind.
The contrast between this place and the Union school that Jayshree attends is formidable. The background to this is that Jayshree filmed an interview with Vivek yesterday (she set up her camera on a tripod and then sat down beside him) and asked him to tell the history of how he helped free the Katkari Tribe from bondage, their forming a Union, etc. At the end of their talk he told her that the tribal future rested in the hands of girls like her. It was beyond moving!
Saturday, March 5, 2011
posted by Joyce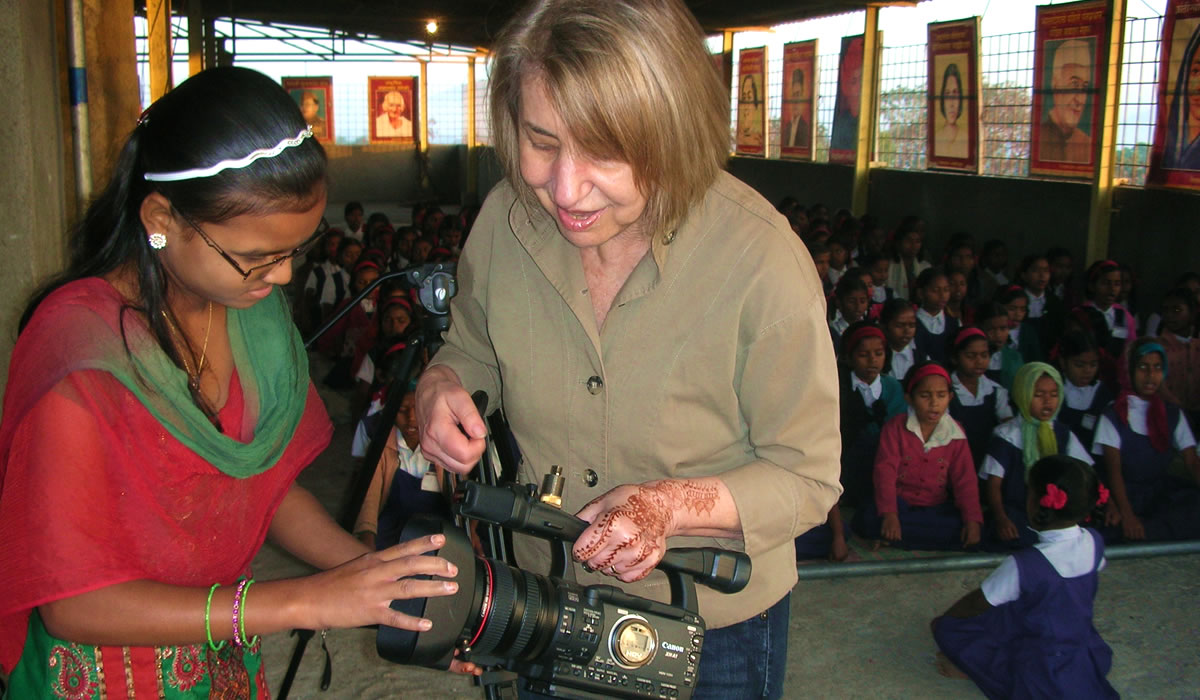 Not surprisingly, Cat and I have become deeply attached to everyone and saying goodbye wasn't easy. Luckily for all of us, Jayshree was kept busy filming until the very last moment so there wasn't time to focus on farewells. Her Father had come with family photos which she thought might be useful for the film, especially the one of her Mother. As a parting gift, she painted elaborate designs on our hands with henna which alas, are fading too rapidly.
Fortunately, we will be in touch all through the editing process and we hope, for many years beyond. Thank you BYkids for bringing these remarkable people into our lives!